By Eva Kekou
January 3, 2013
4Humanities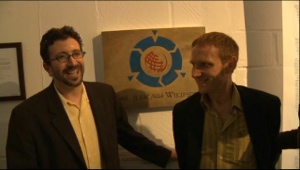 I had the honor of interviewing Scott Kildall and Nathaniel Stern, who both share an immense passion for art and creativity. I am glad we crossed paths some time ago and glad they are my friends now.
Enjoy this interview and Happy New Year!
Eva Kekou: Can you give us some information about your background?
Scott Kildall: I was raised in California as the son of a computer pioneer in the 1970s. My unique childhood included playing text games on servers and my first internet romance at the age of 12 — in 1982!
Fast-forward to my adult years and in my 20s and early 30s, I taught myself to program in C++ and worked in the educational software market for years. I branched into producing social justice documentary videos and ran a metal fabrication studio and then went to art school in 2004, graduating with an MFA from the School of the Art Institute of Chicago.
Nathaniel Stern: Following Scott's lead, I grew up the math geek son of two English teachers, in punk and ska bands from 14 on, singing and playing saxophone. I studied fashion design in college, then went on to do web design and computer art for grad school (at ITP in New York), but quickly got turned on to philosophy and art. That's where I met Nicole Ridgway – now my wife – and wound up moving to South Africa so we could be together. It was an amazing time, teaching and learning and making work. I haven't really stopped since, but I've gained a lot along the way, especially in how I move with my collaborators. I've since written a PhD (soon to be a book!), and now teach at the University of Wisconsin-Milwaukee (UWM).
Read the full interview here.